Services
WORKPLACE CATERING
Delivering throughout Cambridge and the surrounding areas, Cambridge Dining Company are the leading workplace caterers, providing a range of delicious menus perfect for your office, meeting, or event.
Designed specifically for the workplace and a great way to boost team morale, our sustainable lunches are freshly prepared by our team of talented chefs and efficiently delivered straight to your door.
Our homely, honest food brings people and teams together socially and nourishes creativity. Our seasonal, fresh food is designed to be hearty and satisfying as well as excite and sustain.
FESTIVE LUNCHES
Help your team get into the festive spirit this Christmas with a tasty, freshly prepared lunch. Professionally presented and designed for the workplace, all orders are delivered straight to your reception in time for your team Christmas lunch.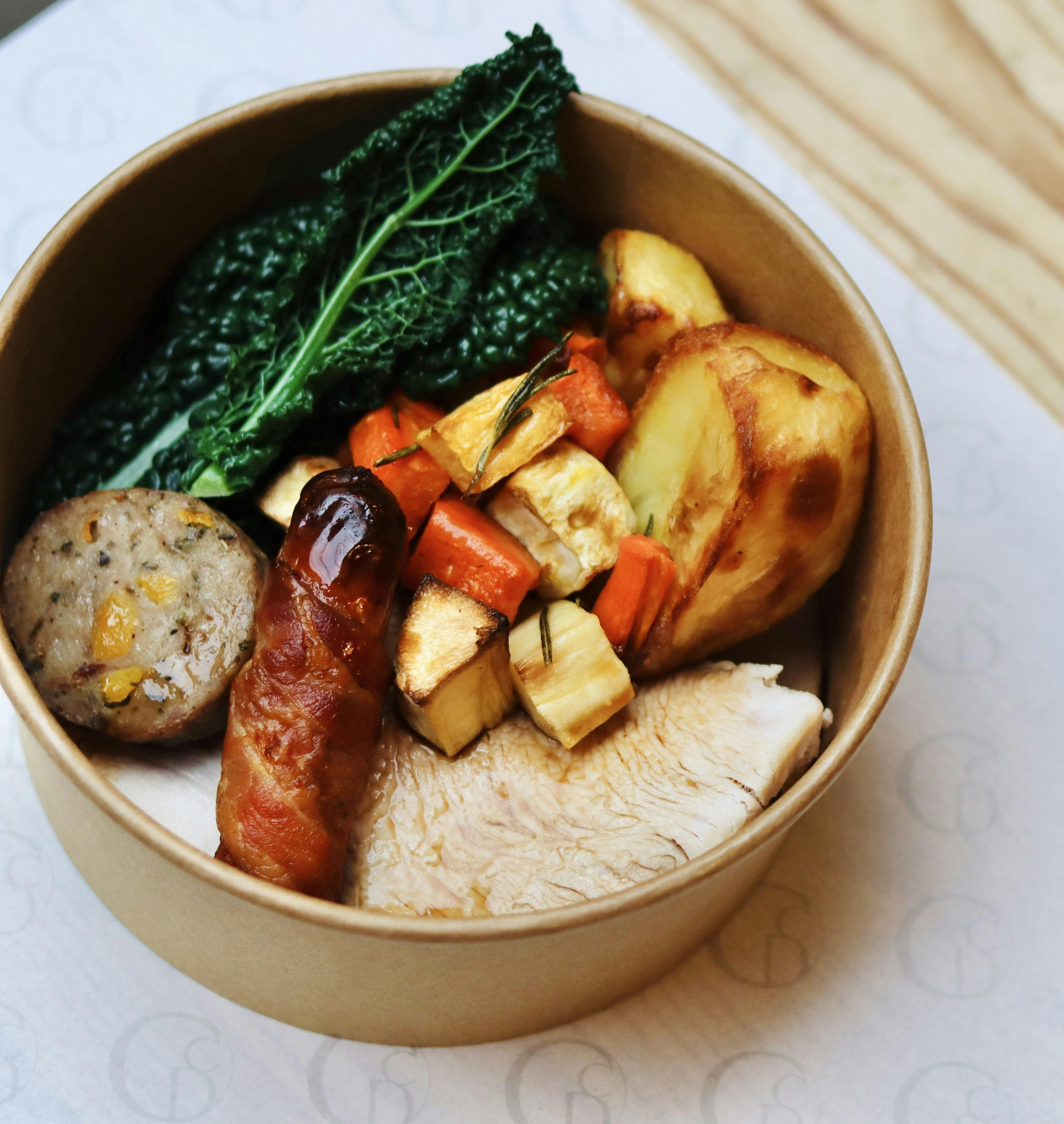 HOT LUNCH
Our warming, hearty Christmas lunches are delivered ready to eat from a sealed microwaveable container.
Enjoy straight from the container, recycle after use.
SAMPLE MENU
Roast Turkey, Pig in Blanket, Cranberry Stuffing
Roast Potatoes, Roasted Vegetables, Cavolo Nero, Thyme & Red Wine Sauce
Roasted Cauliflower, Chestnut & Pearl Barley Wellington
Roast Potatoes, Roast Vegetables, Cavolo Nero, Carrot, Thyme & Red Wine Sauce vg
Dark Chocolate Delice, Honeycomb, Ginger Crumb
1 Course @ £15.00 per person
2 Courses @ £18.00 per person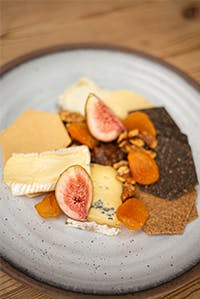 COLD PLATTER
Perfect to share with colleagues, our cold platters are ready to eat served on smart, recyclable trays.
Platters are also accompanied with recyclable plates.
SAMPLE MENU
Cured Meat Selection
Cheese Selection, Cheese Crackers & Christmas Chutney
Sour Dough Bread
Mixed Olives, Nut & Dried Fruit Selection
White Chocolate & Cranberry Fudge, Chocolate Orange Brownie
1 course platter, serves 10 guests @ £150.00 per platter
2 course platter, serves 10 guests @ £180.00 per platter
MENU
Below are samples from our seasonal workplace menu. Please speak to us about your weekly menu options. When ordering simply let us know of any dietary requirements and we will provide alternative dishes for you.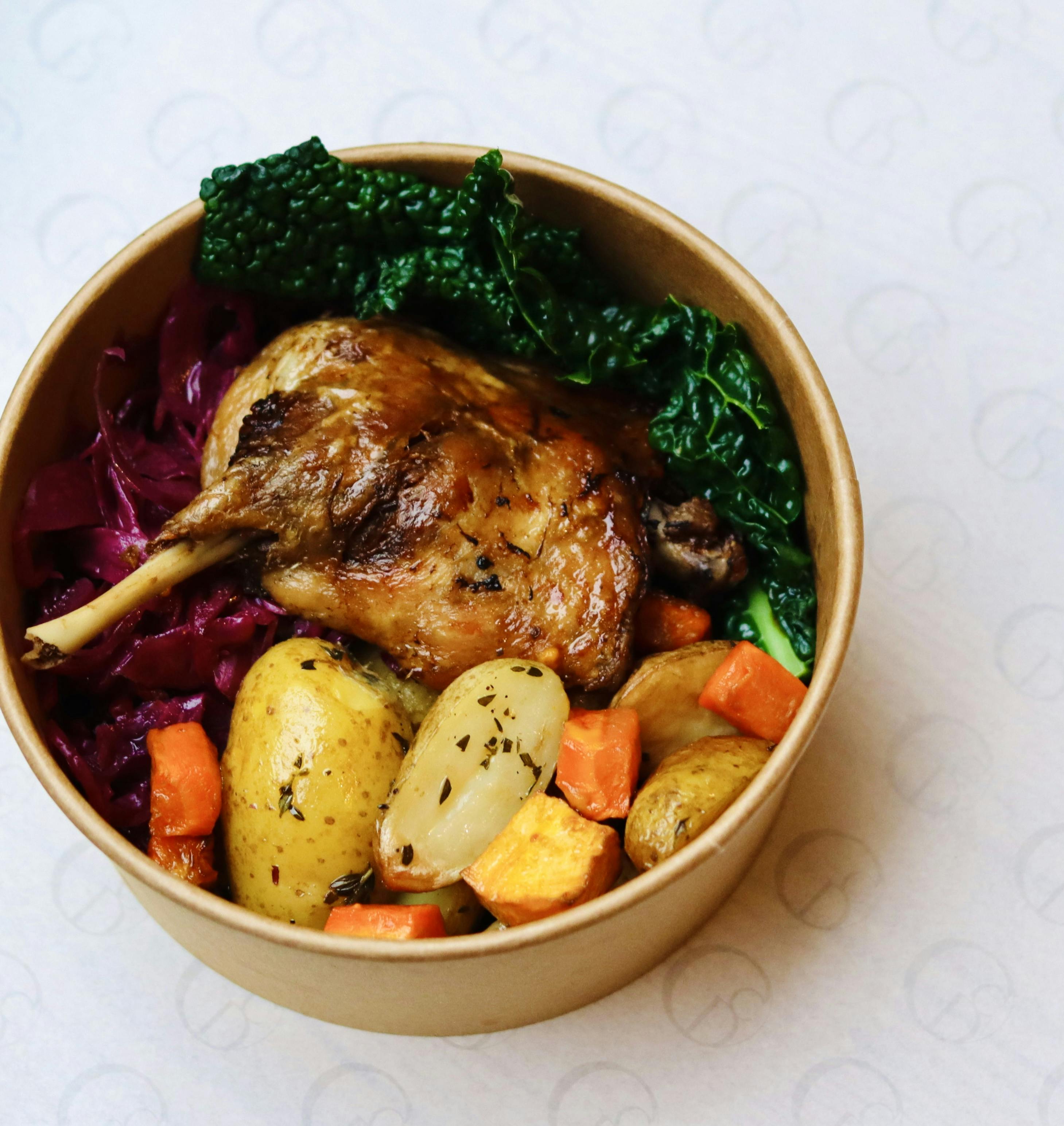 HOT POTS
Roast Duck Leg, Red Cabbage, New Potatoes, Kale & Caraway Jus
Porcetta, Bulgur Wheat & Spelt Grain Salad, Feta, Fennel, Pomegranate
Steak, Mushroom & Ale Pie, Mashed Potato, Pea Purée, Chantenay Carrots
Chicken Katsu Curry, Black Dahl, Aubergine Chutney, Rice
Cumberland Sausages, Smoked Bacon Mash, Hispi Cabbage, Mushroom & Dijon Mustard Cream Sauce Roasted Salmon Fillet, Noodle Ginger & Garlic Wok Noodles, Beansprouts, Chestnut Mushrooms
Sweet Potato & Chickpea Tagine, Aubergine & Herb Cous Cous, Garlic & Mint v vg
Grilled Cajun Butternut Squash, Oyster Mushrooms, Kale, Parmentier Potatoes, Tomato Chutney v, vg
COLD POTS
Seared Tuna, Wakame, Brown Rice, Edamame Bean, Carrot, Avocado, Soy & Ginger
Smoked Duck Breast Watermelon & Orange Salad, Dill Mayonnaise
Caesar Salad, Lemon & Thyme Chicken Thigh, Croutons, Parmesan, Romaine Lettuce, Caesar Dressing Sliced Beef Rump, Shredded Vegetables, Noodles, Chopped Egg, Gochujang Dressing
Hot Smoked Salmon, New Potato, Spring Onion, Rocket, Garlic & Herb Vinaigrette
Feta Cheese, Olives, Sun-Dried Tomatoes, Green Beans, Baby Leaves, Lemon & Olive Oil Dressing v Roasted Sweet Potato, Spelt Grain Salad, Broccoli, Kale, Toasted Seeds, Baby Leaves, Turmeric & Ginger vg
DRINKS (all served in 250ml cans for ease of service)
Elderflower Presse
Cloudy Lemonade
Orange & Clementine
Still & Sparkling Mineral Water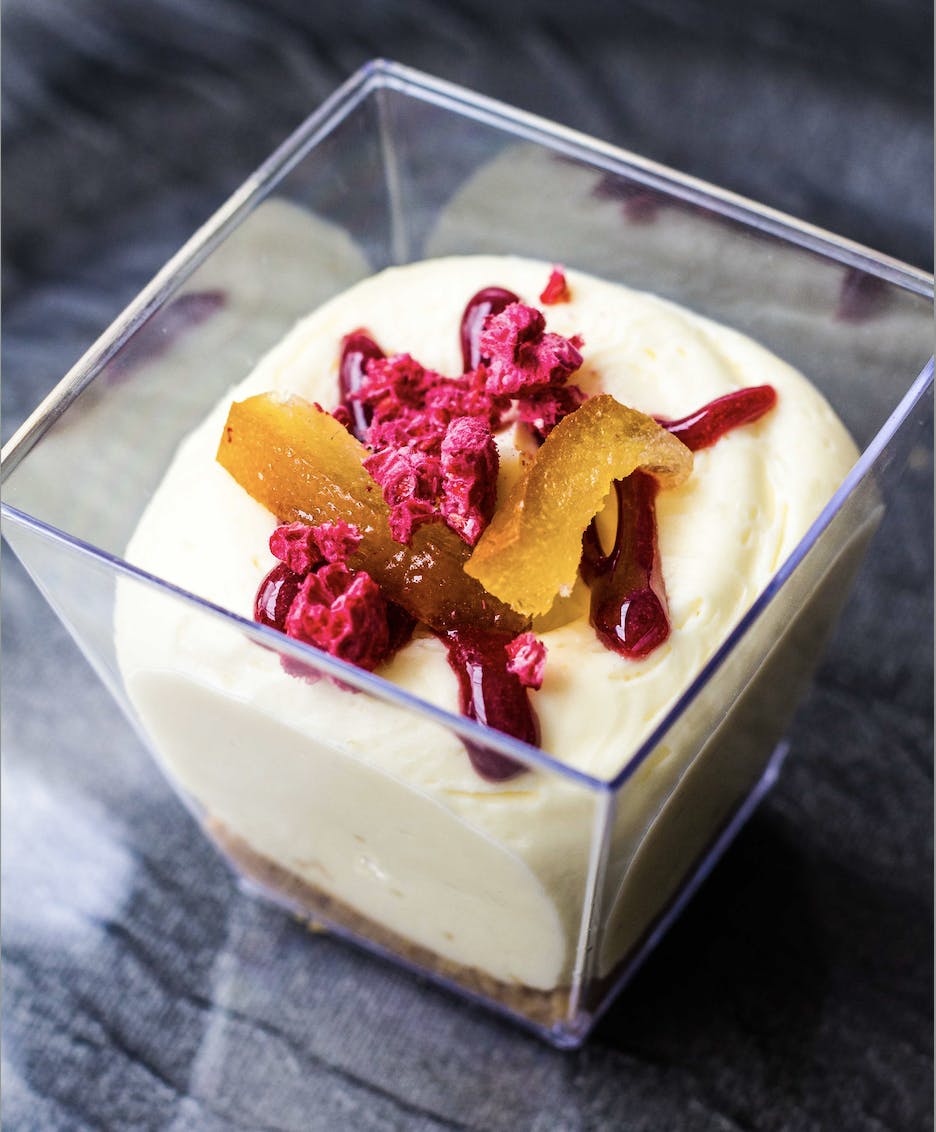 Key Information
Food prices do not include VAT
Minimum spend of £500.00 No VAT applies
Delivery is £40.00+VAT
Please ensure you send over all dietary information
The production kitchen contains nuts
All food is delivered in recyclable, biodegradable packaging
Cutlery, crockery, linen and glassware can be organised on request
To place your order contact us: info@cdc.events - 01223 874333