New Venue: Sandon Manor
An enchanting Hertfordshire escape, Sandon Manor is a brand new and exclusive luxury wedding venue which opened it's doors officially at the beginning of the year.
With historic barns that have been lovingly restored, extensive grounds as well as exclusive use of the stunning Georgian Manor House, Sandon is the perfect setting for any couple's dream wedding all year round.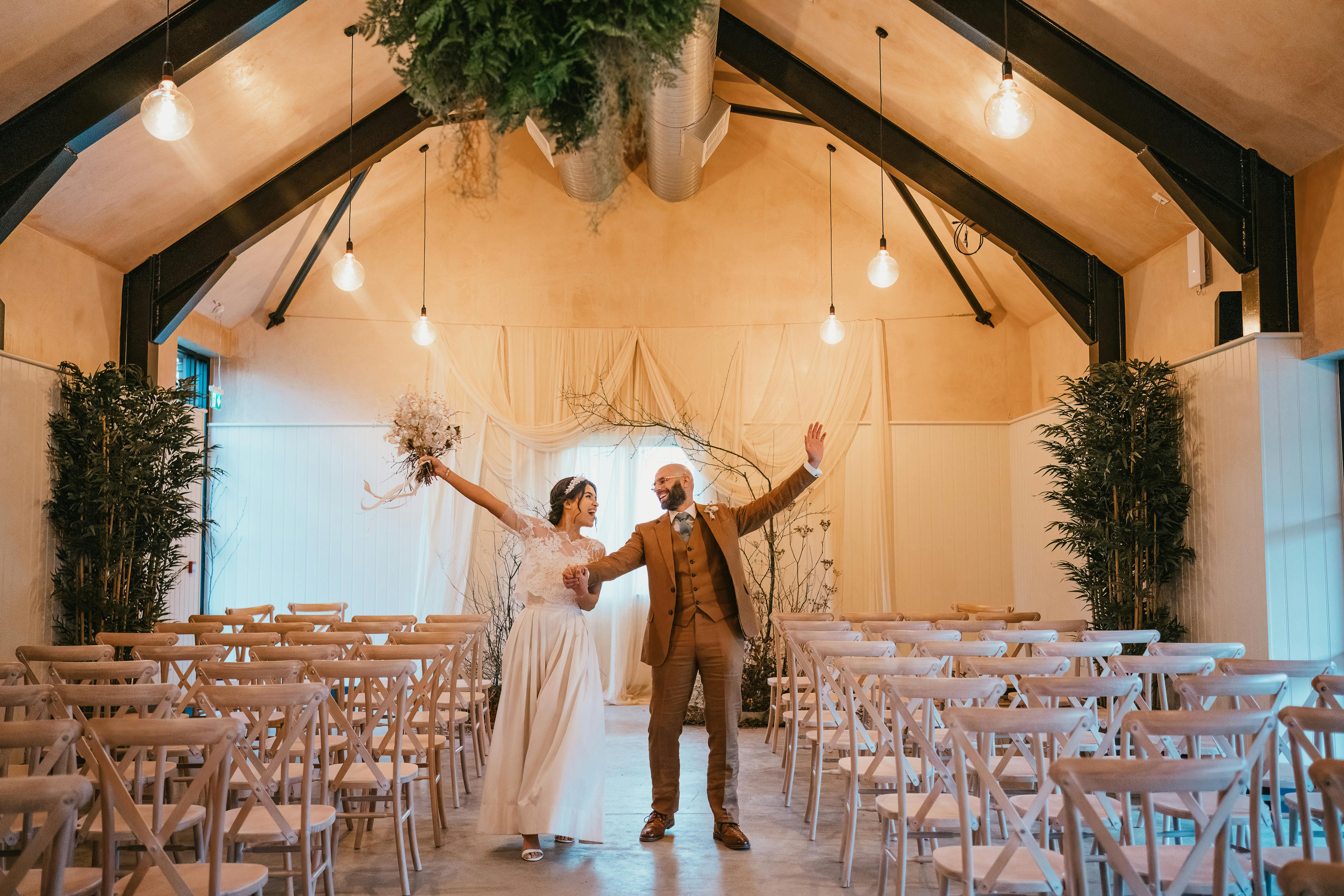 Cambridge Dining Company have loved supporting the dedicated Sandon team in their launch of the venue and even catered for their very first official opening event. The momentous evening showcasing this unique wedding venue was in tribute to all the suppliers, companies and people who had participated in the journey of the build.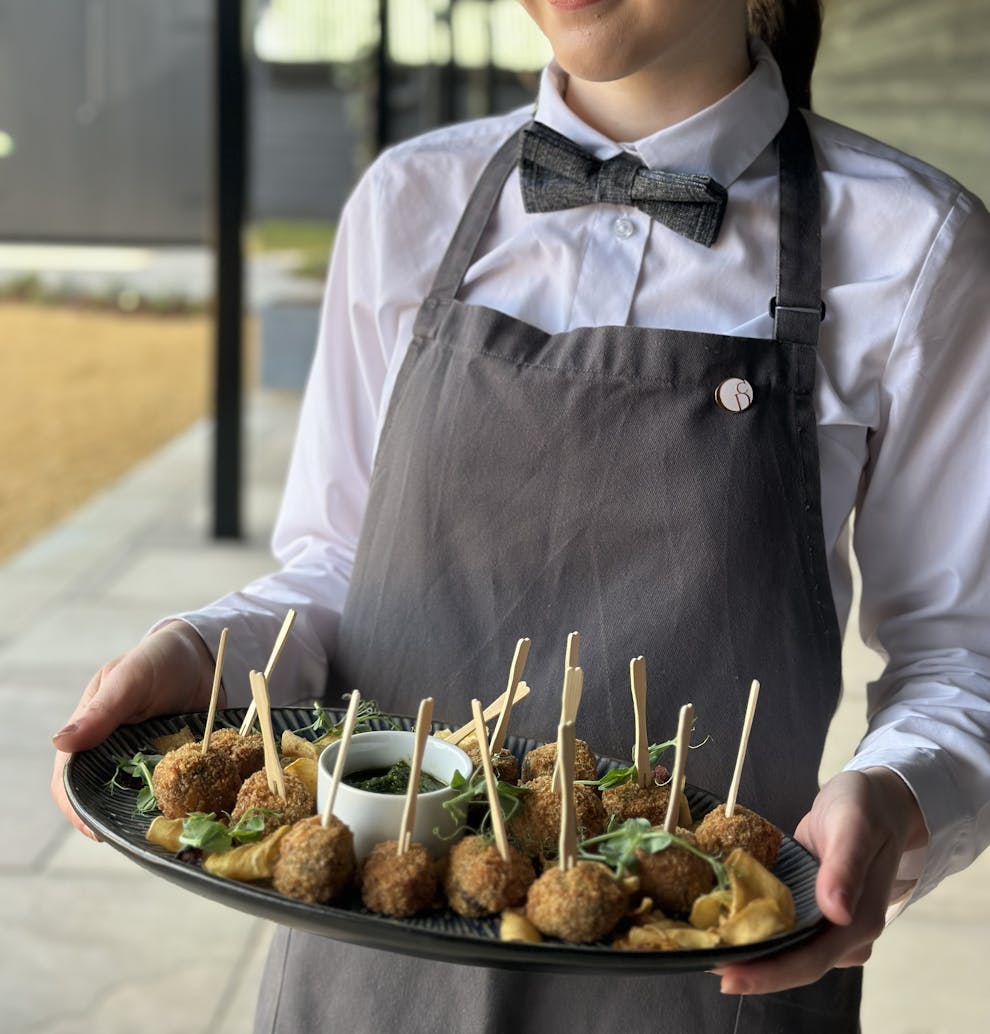 We have loved watching the barns transform from sketched plans, to a building site and now to these remarkably designed spaces and look forward to catering many beautiful weddings here.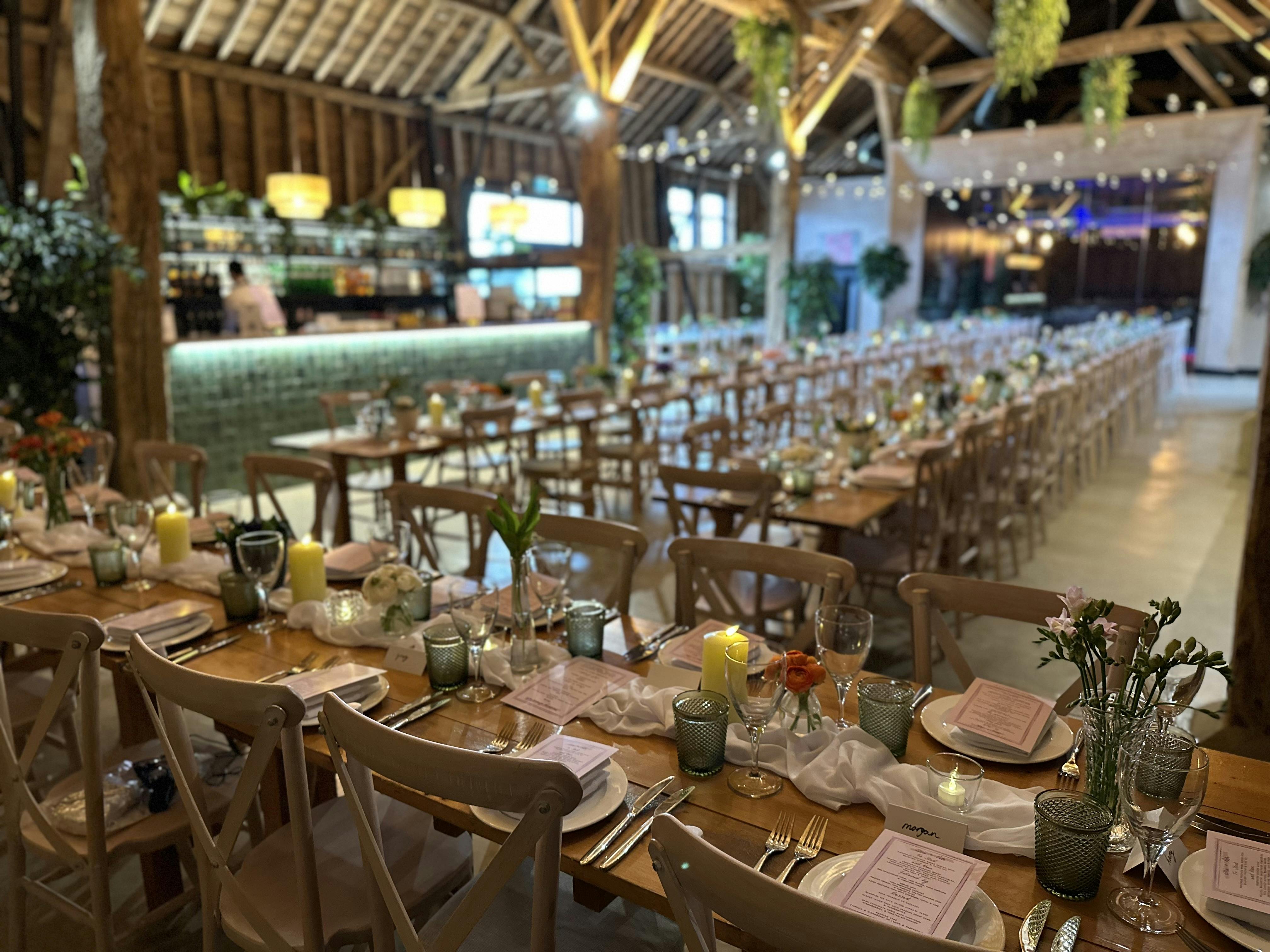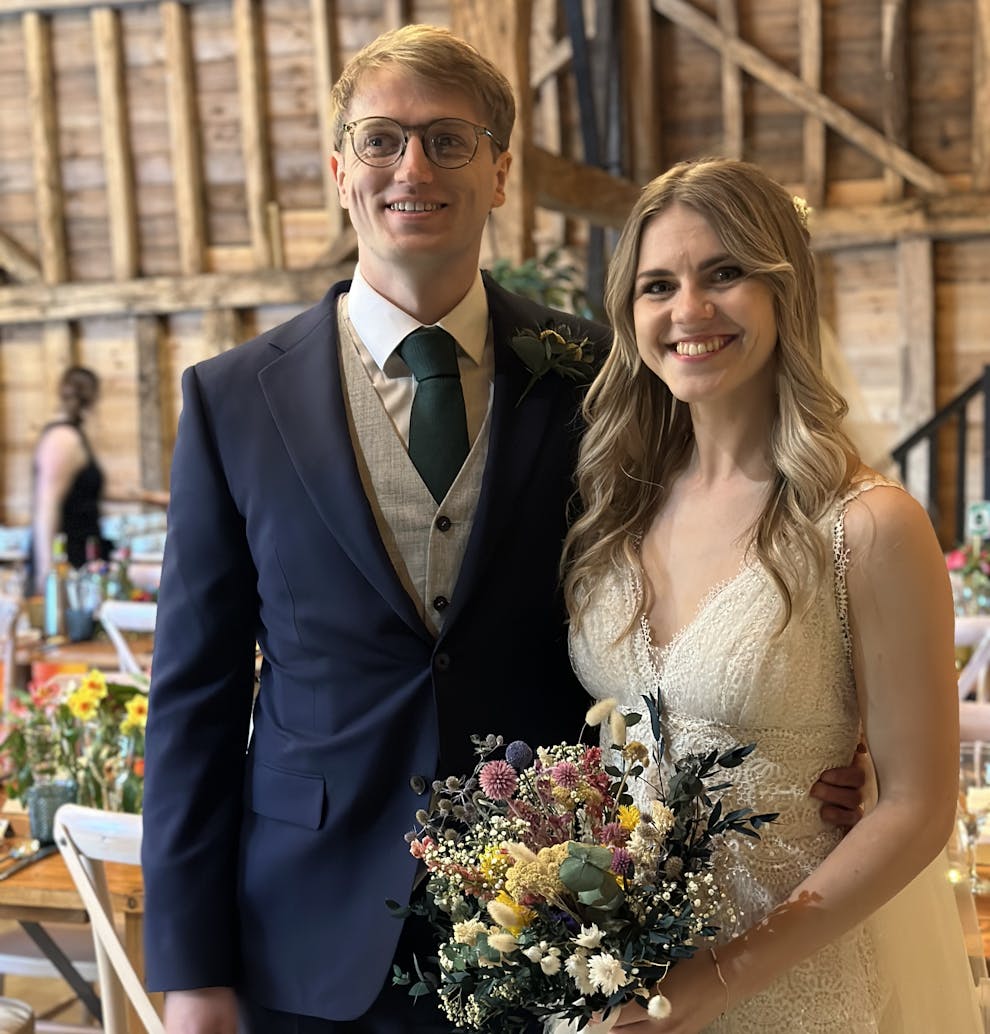 It was such a joy and privilege to cater for the very first Wedding at Sandon Manor on the 25th March 2023.
The lovely Gabbi and Tim enjoyed a wedding day filled with boho vibes, pretty spring flowers, delicious homemade pies and big smiles.
Sandon Manor looked beautiful thanks to blue skies and daffodil adorned grounds plus the renovated barn venue is right on trend with cool industrial features and botanical decor.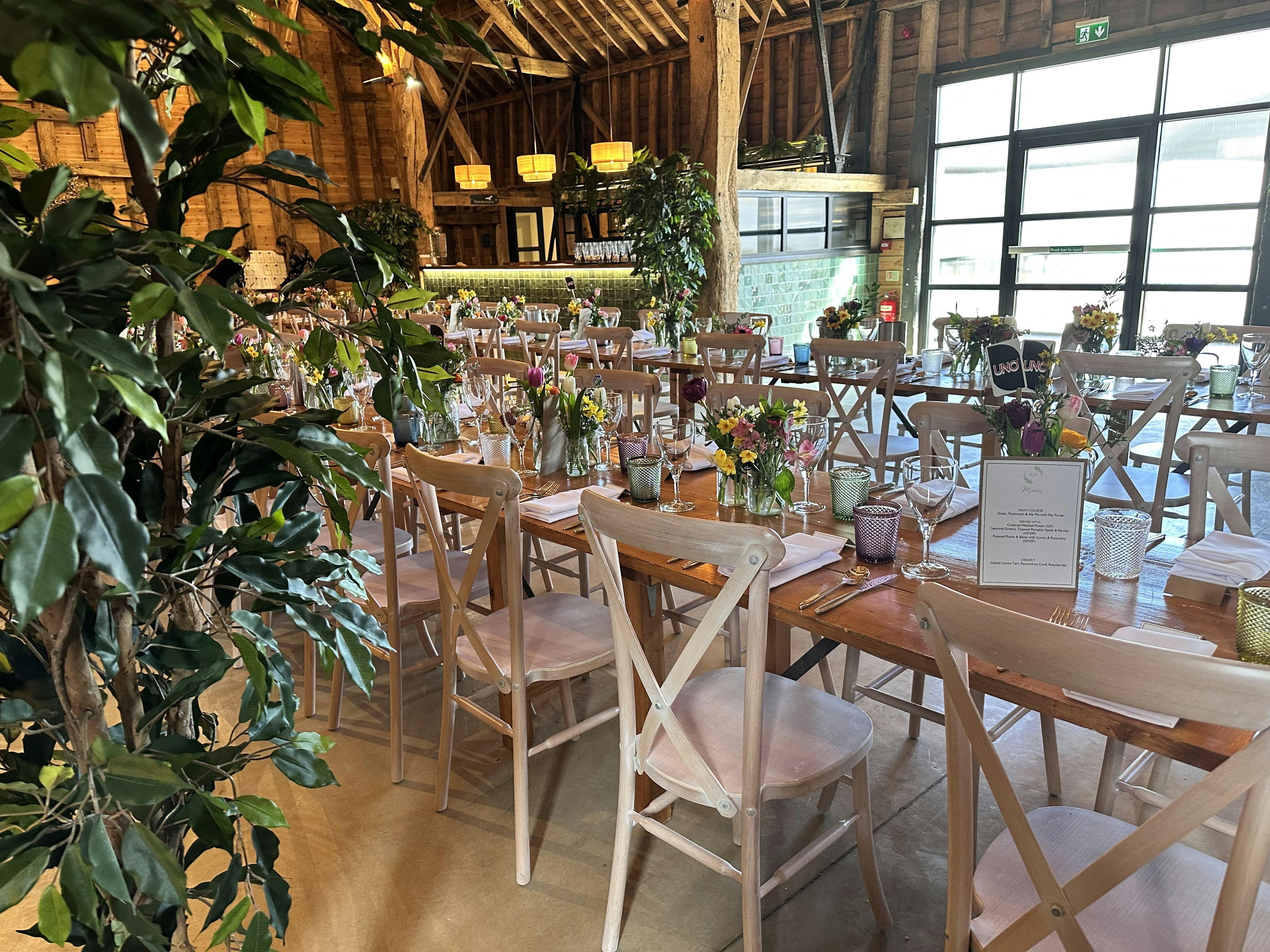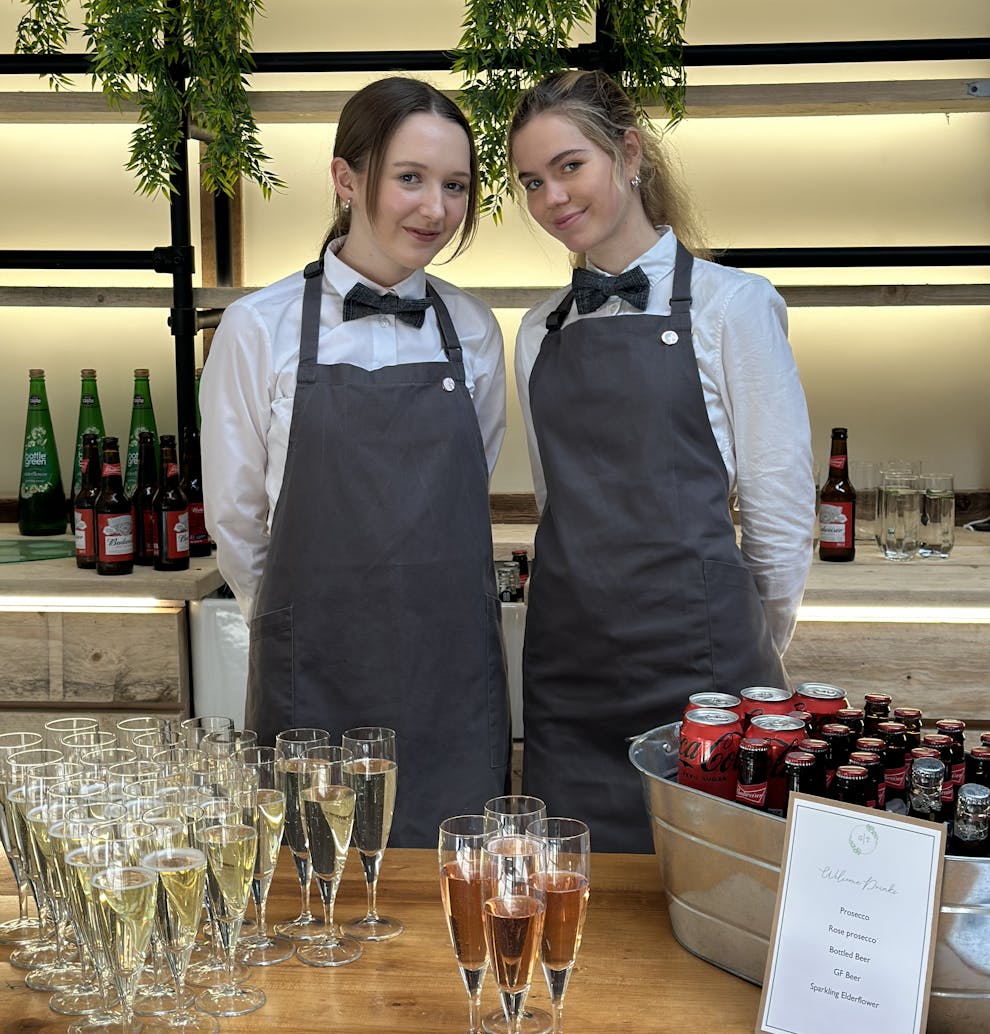 The happy couple gave some lovely feedback from their special day with us and we wish them all the best as husband and wife 🤍

"𝘛𝘩𝘢𝘯𝘬 𝘺𝘰𝘶 𝘴𝘰 𝘮𝘶𝘤𝘩 𝘵𝘰 𝘦𝘷𝘦𝘳𝘺𝘰𝘯𝘦 𝘢𝘵 𝘊𝘋𝘊 𝘵𝘩𝘢𝘵 𝘩𝘦𝘭𝘱𝘦𝘥 𝘮𝘢𝘬𝘦 𝘵𝘩𝘦 𝘥𝘢𝘺 𝘳𝘶𝘯 𝘴𝘰 𝘴𝘮𝘰𝘰𝘵𝘩𝘭𝘺. 𝘞𝘦 𝘧𝘦𝘭𝘵 𝘭𝘪𝘬𝘦 𝘸𝘦 𝘸𝘦𝘳𝘦 𝘴𝘰 𝘸𝘦𝘭𝘭 𝘭𝘰𝘰𝘬𝘦𝘥 𝘢𝘧𝘵𝘦𝘳 𝘢𝘯𝘥 𝘰𝘶𝘳 𝘨𝘶𝘦𝘴𝘵𝘴 𝘴𝘢𝘪𝘥 𝘩𝘰𝘸 𝘥𝘦𝘭𝘪𝘤𝘪𝘰𝘶𝘴 𝘵𝘩𝘦 𝘧𝘰𝘰𝘥 𝘸𝘢𝘴.
𝘞𝘦 𝘳𝘦𝘢𝘭𝘭𝘺 𝘭𝘪𝘬𝘦𝘥 𝘵𝘩𝘢𝘵 𝘥𝘦𝘤𝘪𝘴𝘪𝘰𝘯𝘴 𝘸𝘦𝘳𝘦 𝘮𝘢𝘥𝘦 𝘵𝘩𝘳𝘰𝘶𝘨𝘩 𝘶𝘴 𝘰𝘯 𝘵𝘩𝘦 𝘥𝘢𝘺 𝘣𝘶𝘵 𝘥𝘪𝘥𝘯'𝘵 𝘧𝘦𝘦𝘭 𝘭𝘪𝘬𝘦 𝘸𝘦 𝘸𝘦𝘳𝘦 𝘤𝘰𝘯𝘴𝘵𝘢𝘯𝘵𝘭𝘺 𝘢𝘴𝘬𝘦𝘥 𝘲𝘶𝘦𝘴𝘵𝘪𝘰𝘯𝘴.
𝘛𝘩𝘦 𝘸𝘢𝘪𝘵𝘪𝘯𝘨 𝘴𝘵𝘢𝘧𝘧 𝘸𝘦𝘳𝘦 𝘧𝘳𝘪𝘦𝘯𝘥𝘭𝘺 𝘢𝘯𝘥 𝘦𝘧𝘧𝘪𝘤𝘪𝘦𝘯𝘵 𝘢𝘯𝘥 (𝘦𝘷𝘦𝘯 𝘢𝘧𝘵𝘦𝘳 𝘮𝘺 𝘋𝘢𝘥'𝘴 "𝘴𝘩𝘰𝘳𝘵" 𝘴𝘱𝘦𝘦𝘤𝘩) 𝘨𝘰𝘵 𝘧𝘰𝘰𝘥 𝘰𝘶𝘵 𝘲𝘶𝘪𝘤𝘬𝘭𝘺 𝘢𝘯𝘥 𝘩𝘰𝘵 𝘴𝘰 𝘵𝘩𝘢𝘯𝘬 𝘺𝘰𝘶.
𝘛𝘩𝘦 𝘣𝘢𝘳 𝘴𝘵𝘢𝘧𝘧 𝘬𝘦𝘱𝘵 𝘶𝘱 𝘸𝘪𝘵𝘩 𝘵𝘩𝘦 𝘳𝘦𝘲𝘶𝘦𝘴𝘵 𝘧𝘰𝘳 𝘦𝘴𝘱𝘳𝘦𝘴𝘴𝘰 𝘮𝘢𝘳𝘵𝘪𝘯𝘪𝘴, 𝘴𝘩𝘰𝘵𝘴, 𝘦𝘯𝘥𝘭𝘦𝘴𝘴 𝘥𝘳𝘪𝘯𝘬𝘴 𝘰𝘧 𝘸𝘩𝘪𝘴𝘬𝘦𝘺 𝘢𝘯𝘥 𝘣𝘰𝘵𝘩 𝘩𝘢𝘥 𝘢 𝘴𝘮𝘪𝘭𝘦 (𝘢𝘯𝘥 𝘢 𝘴𝘦𝘯𝘴𝘦 𝘰𝘧 𝘩𝘶𝘮𝘰𝘶𝘳) 𝘧𝘰𝘳 𝘵𝘩𝘦 𝘸𝘩𝘰𝘭𝘦 𝘯𝘪𝘨𝘩𝘵.
𝘗𝘦𝘳𝘴𝘰𝘯𝘢𝘭 𝘵𝘩𝘢𝘯𝘬𝘴 𝘵𝘰 𝘌𝘭𝘭𝘦𝘯𝘢 𝘵𝘰𝘰. 𝘍𝘳𝘰𝘮 𝘵𝘩𝘦 𝘣𝘦𝘨𝘪𝘯𝘯𝘪𝘯𝘨, 𝘴𝘩𝘦 𝘶𝘯𝘥𝘦𝘳𝘴𝘵𝘰𝘰𝘥 𝘵𝘩𝘦 𝘬𝘪𝘯𝘥 𝘰𝘧 𝘸𝘦𝘥𝘥𝘪𝘯𝘨 𝘸𝘦 𝘣𝘰𝘵𝘩 𝘸𝘢𝘯𝘵𝘦𝘥 𝘢𝘯𝘥 𝘸𝘢𝘴 𝘴𝘰 𝘦𝘧𝘧𝘪𝘤𝘪𝘦𝘯𝘵 𝘢𝘯𝘥 𝘵𝘩𝘦 𝘢𝘵𝘵𝘦𝘯𝘵𝘪𝘰𝘯 𝘵𝘰 𝘥𝘦𝘵𝘢𝘪𝘭 𝘸𝘢𝘴 𝘣𝘳𝘪𝘭𝘭𝘪𝘢𝘯𝘵.
𝘛𝘩𝘢𝘯𝘬 𝘺𝘰𝘶 𝘴𝘰 𝘮𝘶𝘤𝘩!"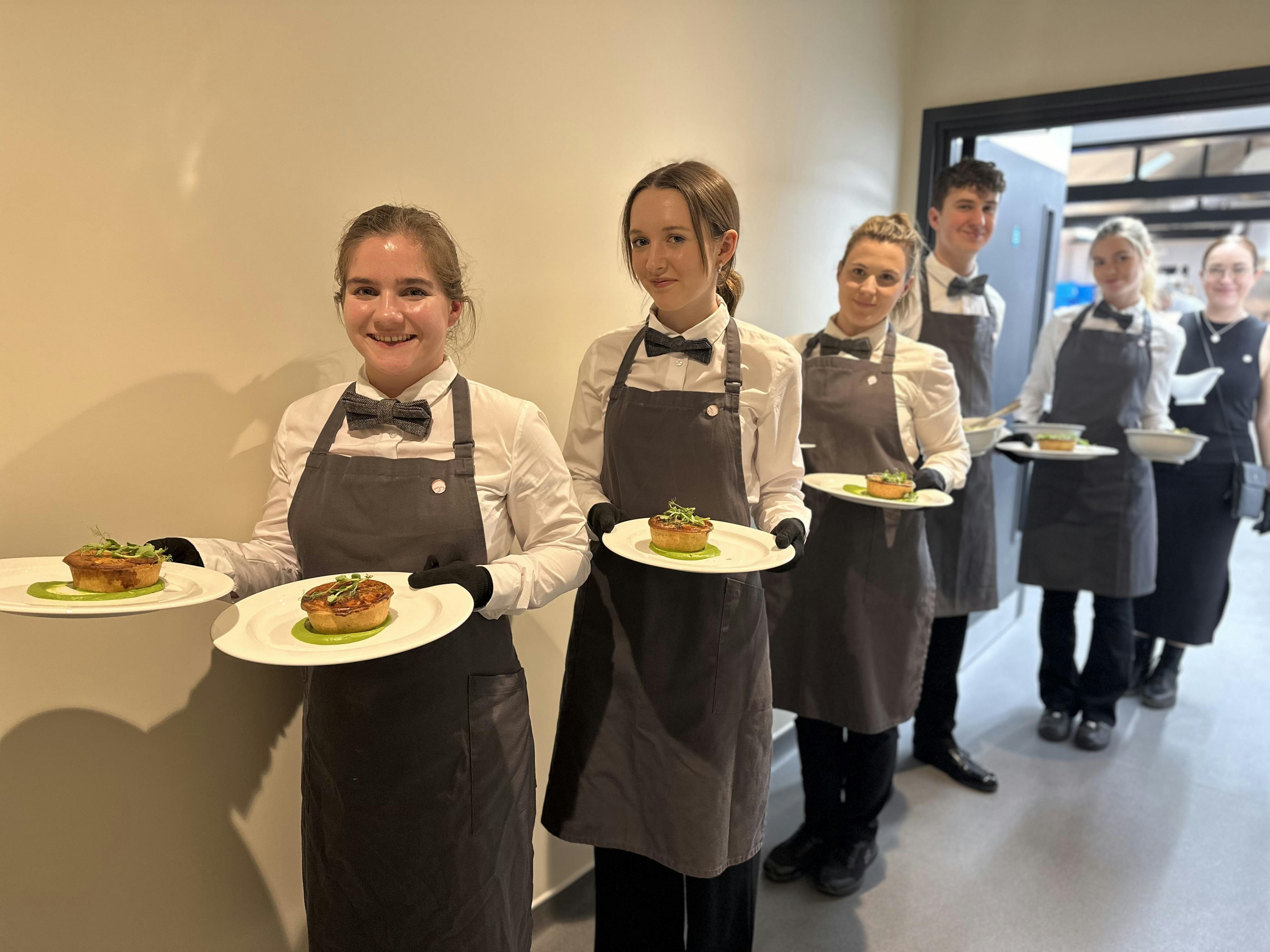 Return to all posts