THE BEST CHRISTMAS PARTY IN CAMBRIDGE?!
With planning already underway for our 2020 Christmas parties, read on as we look back on our favourite parties of last season.
The Christmas party is a big deal to our clients. It's the time of year when the whole company can come together, celebrate the successes of their year and have some fun with colleagues. With so many options available for Christmas parties in the region, our clients choose CDC Events to deliver their brief, bring creative flair, and wow their guests year after year.

World of Imagination
We love working with our clients, Horizon Discovery, as they always come up with a creative brief that challenges our team, and they are such fun to work with. Last year, we enabled their guests to dine under the Northern Lights and this year took them into the magical world of Willy Wonka's Chocolate Factory. Guests had no idea what the theme would be and arrived to a seemingly traditional marquee for their welcome drinks. Hints of the theme began to emerge as they were greeted with Fizzy Lifting Drinks and a pair of golden gates at the edge of the room.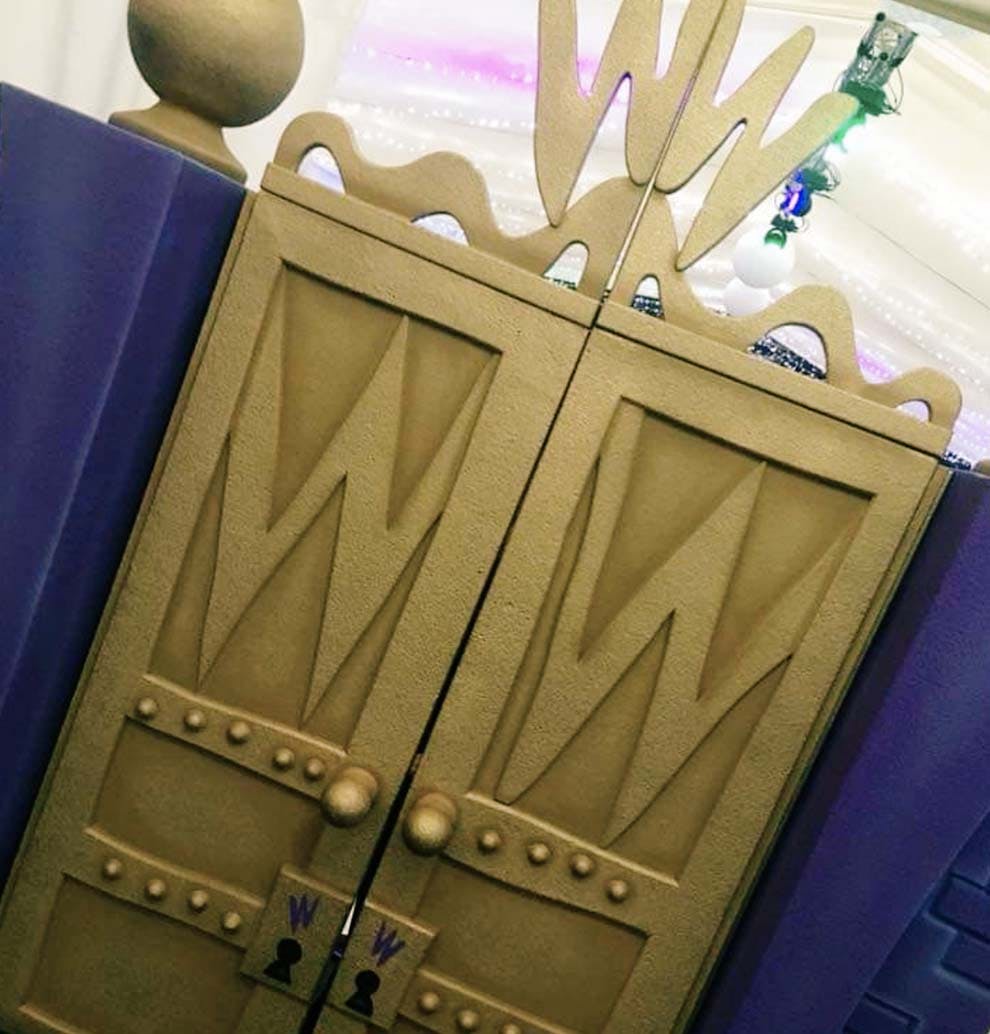 After cocktails and canapes, the company Director threw open the gates and guests were invited into a world of pure imagination by Willy Wonka and his trusty Oompa Loompas where they were greeted by giant candy canes, a chocolate fountain, edible bubbles and a purple bridge! This year, we also moved away from the traditional 3 courses and served bowl food to guests so they could mingle and party without the formal nature of a sit-down meal. Dishes included Steak and Chips with Chestnut Mushrooms, Spinach Gnocchi and Chocolate Orange Torte with Popping Candy.

Licence to thrill
Following the success of last year's Game of Thrones theme (complete with wolf and red tree!), Cambridge Consultants briefed us to deliver a James Bond themed party for their 550 guests. A sleek Aston Martin provided an impressive welcome for the drinks reception and a great backdrop for photos, before guests were invited through to the main marquee where they dined amongst giant martini glasses and feather plumes. Traditional turkey was out, and our Chuck Eye of Beef with all the trimmings and Charred Aubergine with Squash were in! Guests were entertained by a magician and the popular costume competition, followed by a flutter at the Casino tables, glamming-up at the glitter bar and dancing the night away with our house DJ.

All that glitters
The spectacular new Cambridge HQ for Illumina was the venue and inspiration behind our client's Christmas party and new building reveal. With the building work undergoing its final stages and the venue kept secret from the staff, we set out to transform the space into a festive wonderland. The new lobby features beautiful floor to ceiling windows and a Winter Garden, which were brought to life with a starlit dancefloor and lighting washes.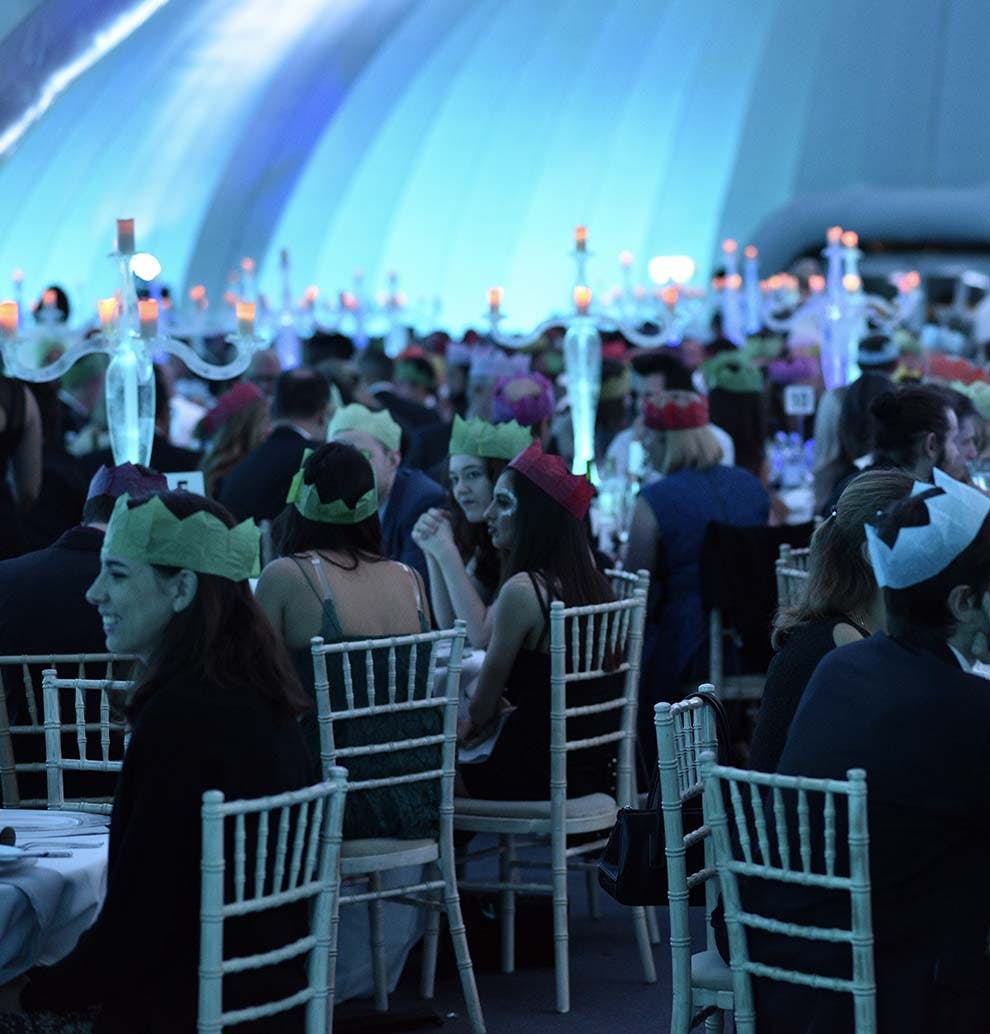 To accommodate all 600 guests, we constructed an impressive inflatable dome outside the foyer, for a sumptuous 3 course meal featuring Cured Gin Salmon, Confit Duck Leg and Ginger & Cinnamon Sponge. Each place setting featured a personalised menu, bespoke crockery and glassware to match the space and beautiful uplit candelabras. After dinner, guests were invited to the dance the night away, or have some fun in the photobooth or at the glitter bar.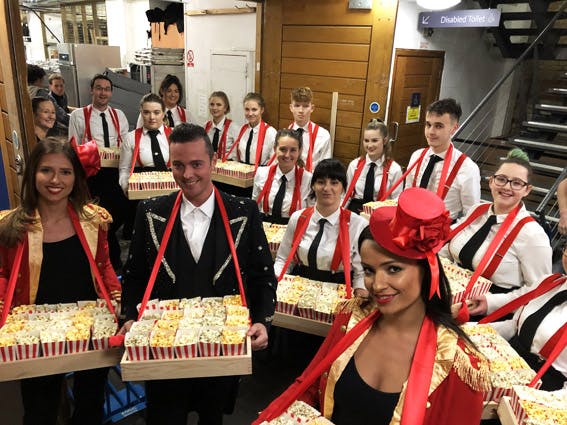 The Greatest Show
We worked with Rockitfish to transform the Corn Exchange into a circus hall for clients Redgate Software. Guests were greeted with a Pinkster Gin Cocktail and served Chilli or Truffle Popcorn by our ushers and usherettes. They dined on Venison Scotch Egg, delicious Pork Belly with Pork Cheek Bon Bon and Sticky Toffee Pudding with Caramel Chantilly, followed by a Cheese and Port Station as the band played them into the night.

Winter Wonderland
The timeless elegance of Winter Wonderland was a popular theme again this year, lending itself well to a variety of venues, including the Cambridge Corn Exchange, Guild Halls and Quy Mill Hotel. We hosted events which moved away from the traditional sit-down meal, including not one, but two Christmas celebrations for our friends at Cambridge Assessment.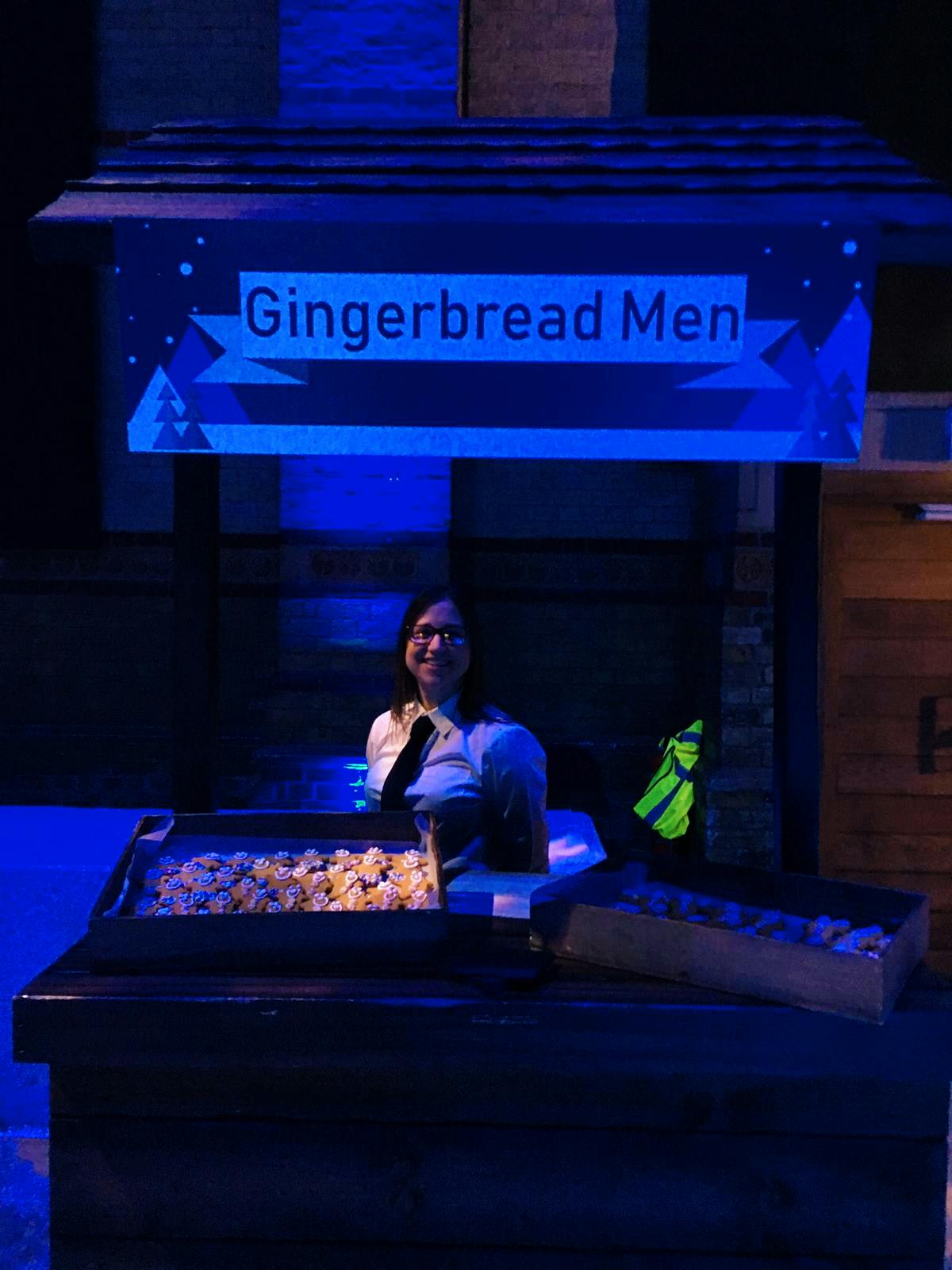 The first event saw the Corn Exchange washed in icy blue with guests served Fish Goujons with Sweet Potato Fries and Tartare Sauce bowl food, followed by a visit to one of our rustic food stalls serving Pretzels, Candy Canes, Gingerbread Men and Cupcakes! The second event took place at the newly launched HQ, where guests were treated to Spiced Ginger Punch, Stilton & Fig Arancini and Pizza Stations.

Cosy Christmas
Of course, the important part of any Christmas party is the company, and this year we arranged many intimate dinners alongside the big extravaganzas. We provided a Christmas and Boxing Day feast for a private client, and styled and dressed the table ready for the family celebrations, complete with bespoke colouring-in pages for the children. We hosted lunches and dinners at Ely Cathedral, Dojima Sake Brewery and Pembroke College for our corporate clients and a shared party night at the Guild Halls, perfect for smaller companies.

2020 Awaits!
If we have inspired you, then it's never too early to start planning your 2020 Christmas party. With many of our dates and venues in high demand, get in touch with Lucie and Simon at info@cdc.events to hear how we can make your Christmas one to remember!
Return to all posts